If you're a regular reader of our blog, then you know that we take product authenticity very seriously.
So when we recently came across a fake Dymatize ISO100 Jar, we knew we had to take swift action to protect our readers.
In this post, we'll show you how we detected the fake jar and what steps you can take to avoid being scammed yourself. Stay safe and stay fit!
How We Analyzed The Jar
It all began when we received WhatsApp from one of our visitors in Egypt.
He was confused about the authenticity of the jar and asked for our help. So we decided to take a look.
He had sent images of two different jars, which we'll discuss one by one.
When we looked at the first Dymatize ISO100 jar, it looked pretty okay until we noticed that the word "SERVINGS" was carelessly misspelled as "SREVINGS."
Once we spotted this, we knew right away that this jar was a fake.
Before drawing a conclusion, we decided to dig in further since we wanted to be 100% sure.
And what we found was pretty alarming!
The font of the jar was of low quality in comparison with the original Dymatize ISO100 jar.
You can clearly see it if you check the phrase "PROTEIN POWDER." Also, the percentage symbol "%" looks way different from the original Dymatize ISO100 jar.
They have also used incorrect font styling. You can spot this in the phrase "GLUTEN FREE," which seems to be in a semi-bold text and looks much different compared to the original Dymatize ISO100 jar.
We immediately alerted our visitor and told him it was a cheap knockoff meant to scam people.
We were pretty surprised at how convincing these fakes were, as the rest of the jar looked almost identical to the original jar.
If it was not for the apparent spelling mistake, it would've been quite difficult for anyone to spot the difference.
Most people don't even bother to look into so much detail. This is why we offer a free service where you can check the authenticity of your jar.
Now moving on to the next jar. This jar looked fake from the get-go.
We observed the following irregularities:
The jar was missing an "Informed Choice" logo.
The print quality is also poor and appears to be quite faint.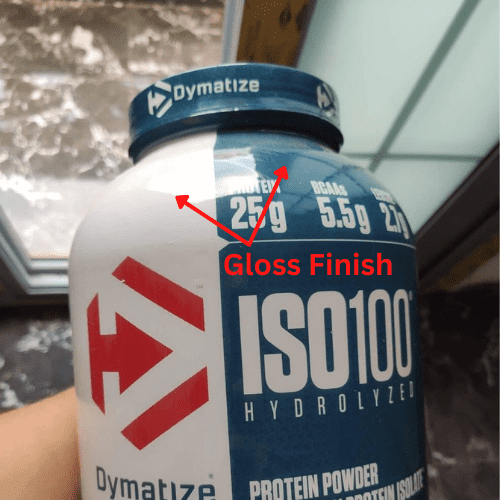 Original Dymatize ISO100 jars have a matte finish on the white region and a gloss finish on the blue region. This was not the case with this jar, as the white portion also seemed to have a gloss finish.
There was no manufacturing date mentioned on the base, which was a big red flag.
The fonts at the base of the jar were quite different from the original one. It also had misspelled "customblowmolding" as "customblowmoloing."
Once we finished our analysis, we quickly informed our visitor that this jar was also a cheap knockoff. Luckily, he sent the images to us for verification before making a purchase decision.
---
How To Stay Safe When Shopping For Dymatize ISO100 Online
It's always important to be careful when purchasing products online, especially when there are cheap imitations available.
Here are a few tips that might help:
Ask for original product photos and inspect them closely. If they look like they've been doctored, the product may be fake. In case you can't find the photos in the listing, email the website or seller and ask for them.
Make sure you purchase from a reputable source. Avoid sellers who do not have a FSSAI number and refuse to offer a GST bill.
You can check the website's/seller's reviews on google. Always make sure to see what other people have said about their experience.
Be wary of deals that seem too good to be true. If a product is being offered at a significantly lower price than usual, it's likely a fake.
Look for misspellings or other irregularities in the listing. This can be a sign that the product is not legitimate.
If you have any doubts about the authenticity of a product, don't hesitate to contact Dymatize or their official importer directly for verification.
If you still need help examining your product, then you can refer to our detailed article or contact us.
---
What Should You Do If You've Purchased A Fake Dymatize ISO100 Jar
If you've recently bought a fake Dymatize ISO100 protein jar, there are a few things you can do.
Firstly, don't panic! The best thing to do is to return the fake jar to the seller and request a refund. If the website or seller is unwilling to accept a return, you can complain to FSSAI for a solution.
Secondly, if the seller is uncooperative, report the counterfeit to the manufacturer. They need to know about this so they can take steps to prevent it from happening again.
Finally, spread the word by leaving online reviews and sharing your experience on social media! Let everyone know about what happened and how they can avoid getting scammed in the future. Together we can put an end to this epidemic!
Note: Please avoid this step if you're not 100% sure your jar is fake.
---
Where Can You Purchase Authentic Dymatize ISO100
If you're looking for an authentic Dymatize ISO100 product, you can purchase it from any authorized online or offline outlet.
You can also place an order with us if you want a headache-free and smooth buying experience.
Your purchase will include:
Double Moneyback Guarantee
We're so confident in our products we're willing to give you double your money back if your purchase doesn't verify online.
GST Bill
Feel secure knowing that you have proof of purchase if something goes wrong.
Same Day Delivery
Order from the safety and comfort of your home without worrying about shipping delays.
*Please note that same-day deliveries are available in selected locations only. The rest of the areas will be serviced by Delhivery courier.
Your purchase will help us to keep the blog alive and post more helpful content in the future.
---
Conclusion
We hope you found this post helpful. It's important to be vigilant when shopping online, especially for supplements, because there are a lot of scams out there.
If you have any questions or if you've purchased a fake Dymatize ISO100 jar, please let us know in the comments. We'll be happy to help.
Stay safe and stay fit!