Nitrotech has changed its packaging. Please refer to this article for updated info.
Step 1: Check Importer Tag
As per Muscletech's official website, there is only one official importer in India, i.e., Shri Balaji Overseas (GMC).
You can visit the following link to check the official importer list:
https://international.muscletech.com/international-distributors/#tab-1411606320466-8-10
GMC has also added a scratch code and hologram. After scratching, you can SMS the code to +91-8510012244 for verification.
Once you verify the importer tag, you can be 70% sure that your product is genuine. Fake Nitrotech jars usually have a missing or incorrect importer tag.
---
Step 2: Check Security Hologram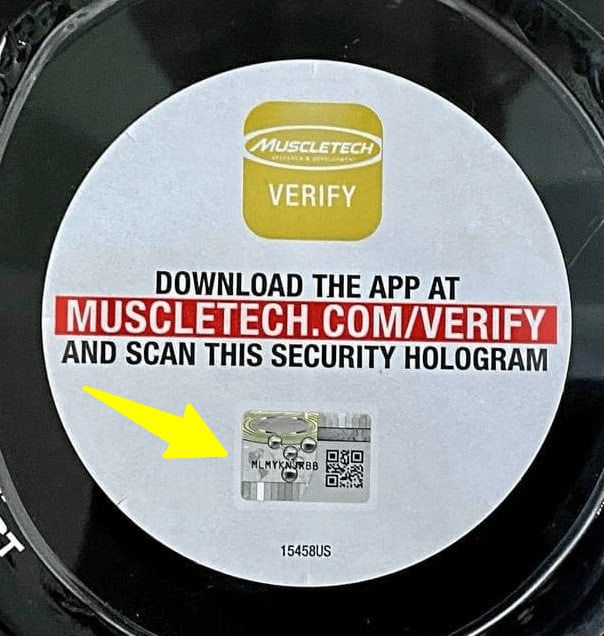 To prevent piracy, Muscletech has added a security hologram on the cap of the jar. This tag can be scanned using the Muscletech Verify App.
You can download the official app from here:
https://international.muscletech.com/verify/
Please note that this method of verification is not foolproof. This code, when scanned from multiple devices, shows the same result.
---
Step 3: Check Muscletech Logo
In original jars, the letter "M" in the Muscletech Logo is slightly tilted towards the right.
If your jar has a straight "M," then it's most probably fake.
Pirates usually ignore these details, due to which their fake products get caught.
---
Step 4: Check Neck Band Seal
The neckband seal should be tight. It will have the Muscletech logo, Official Product, and docket number printed on it.
This docket number can be matched with the expiry and lot info through a database. This database is maintained by Muscletech.
If you want to verify your jar's docket number, please contact:
counterfeits@iovate.com
If your jar's neckband seal appears to be very loose or sealed with an adhesive, then it's most likely fake.
---
Step 5: Check Jar Label
Original Nitrotech jars use holographic labels. When these labels are exposed to light, they produce a rainbow color shine.
You can always check your jar by using your cellphone's flashlight. If your jar label doesn't emit a shine or looks dull, then it might be fake.
---
Step 6: Check Text & Fonts
All Muscletech jars use premium-quality fonts. On the front of the jar, Nitrotech will have a trademark symbol ™ attached to it.
In other places, wherever the word Nitrotech appears, it will have a registered trademark symbol ® attached to it.
The Muscletech Logo will always have a registered trademark symbol ® attached to it.
You can check the above image for your reference.
If these symbols are missing from your jar, then your jar might be fake.
---
Step 7: Check Nutrition Info
Always cross-check the nutrition info present on the jar with the official website:
https://www.muscletech.com/
If you are unable to find the product on the official website, then please contact:
counterfeits@iovate.com
Please note that formulation changes can happen in a product. Kindly avoid jumping to immediate conclusions.
---
Step 8: Check Address & Bar Code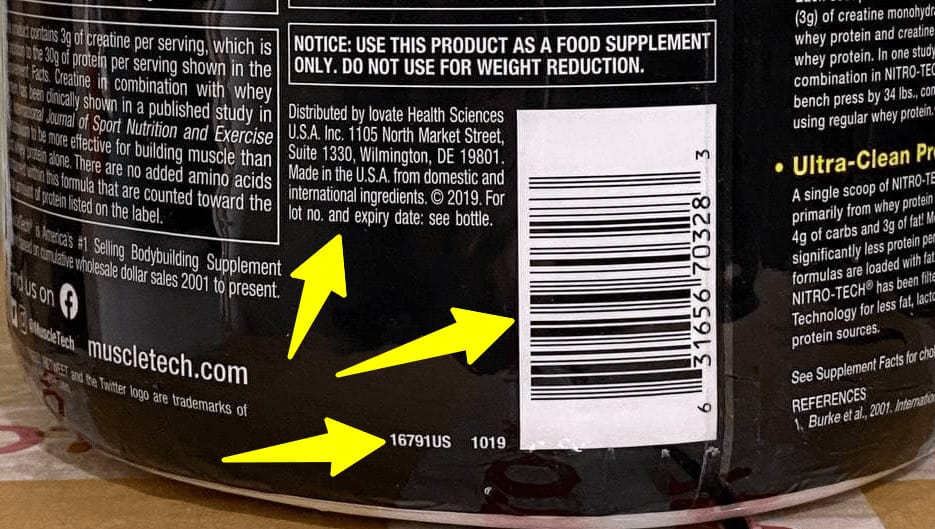 Muscletech products are officially distributed by Iovate Health Sciences, USA.
If you find an Indian address printed on your jar, then it might be fake.
You can scan the bar code using the following app:
https://play.google.com/store/apps/details?id=com.gamma.scan&hl=en_IN&gl=US
Try using a different app if the above app doesn't give any results. There will also be a label docket number adjacent to the bar code.
If the bar code is missing or invalid, then your product might be fake.
---
Step 9: Check Flavor and Size
Always check the spelling, list of flavors, and jar size on the official website.
If you find a different flavor or jar size, then please contact:
counterfeits@iovate.com
Please note that Muscletech occasionally runs promos. They sometimes offer larger sizes for a lower price. Please avoid making a conclusion without prior verification.
---
Step 10: Check Base, Lot & Expiry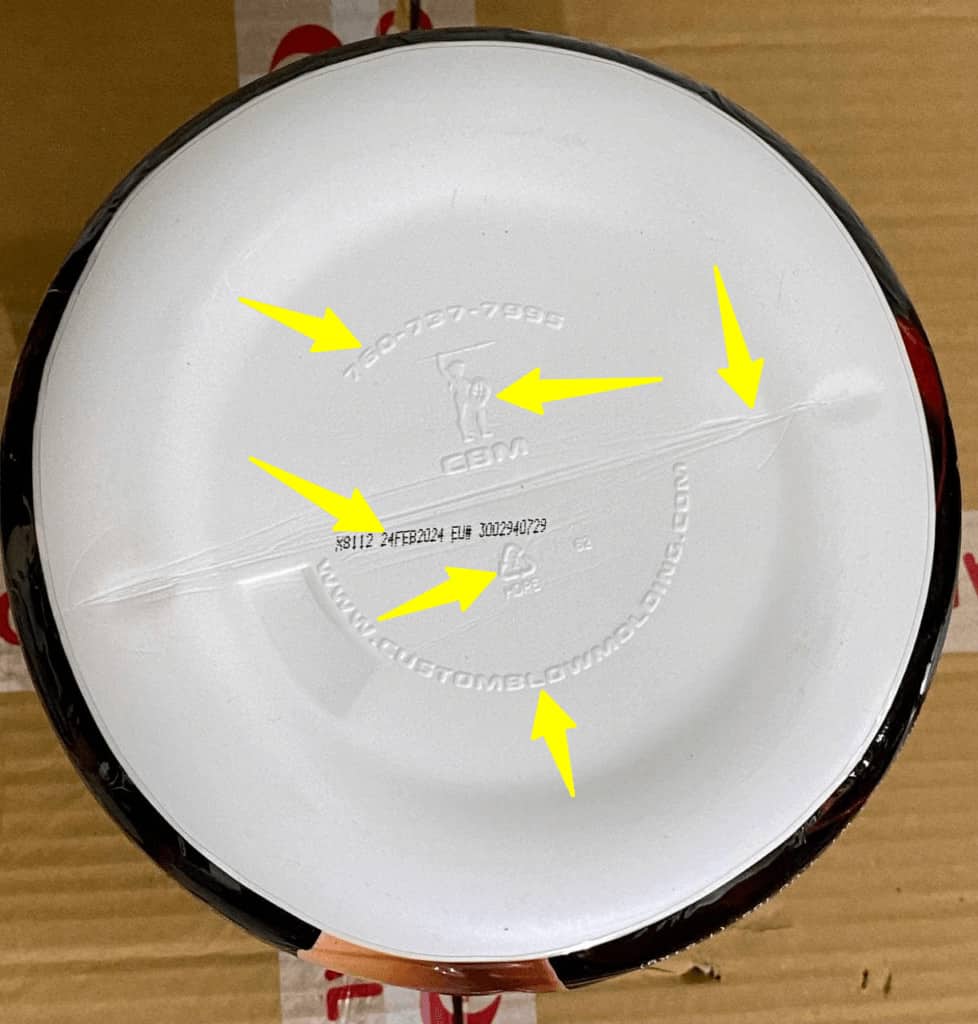 As shown in the image, the base of the jar will contain a crease. This is formed due to the plastic thermoforming process.
It will also have an HDPE symbol which stands for high-density polyethylene.
There will be CBM Logo along with their phone number and website address at the base. They are the official manufacturer of Nitrotech's plastic jar.
The base will also contain the lot number and expiry info. The expiry date will be 3yrs apart from the manufacturing date (as shown on the importer tag). Please note that the font and format of this info are changed from time to time.
Please do not panic if you spot SCi Logo since they also have an official tie-up with Muscletech.
---
Disclaimer!
Please note that the above info is for external verification only.
The company changes its packaging from time to time. Importers can change as well.
Also, some Nitrotech jars are manufactured by Schoeneck Containers, Inc. The jar base will have an SCI Logo instead of a CBM Logo.
Muscletech has contracts with different jar manufacturers.
In case of any discrepancies, please contact:
counterfeits@iovate.com
If you're feeling confused, you can always WhatsApp us your jar images, and we will check them for FREE.